Towards Creating an Ideal Neighborhood
Buy your dreamland in RAJUK-approved projects, surrounded by nature, and modern urban facilities.
Swadesh Properties Limited is one of the leading land development companies in Dhaka, Bangladesh. For last 19 years we have been successfully doing business in the real estate industry with name & fame. Our Shornali and Sunvalley abashon are located under Dhaka north city corporation with all good neighborhood. Shornali Abashon is close to Purbachal New Town and Sunvalley Abashon is near Baridhara Diplomatic zone and the Gulshan area.
Ideal Neighborhood in The Heart of Dhaka
New Dhaka is being built in Purbachal New Town; Shornali Abashon is very near to this planned mega city. Due to its value-adding neighborhood, many residential and commercial plots of this project are already sold out.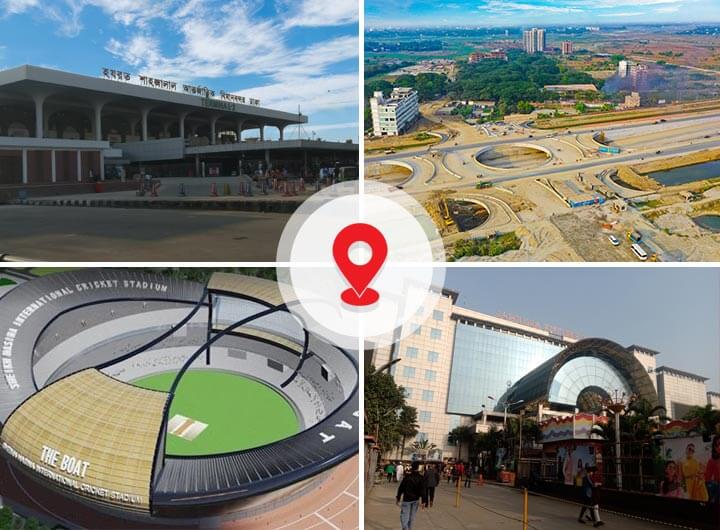 Hurry up ! Book your desired plot in this land development project before the price increases further. What's Around the Shornali Abashon ?
Hazrat Shahjalal International Airport: Just 12 minutes drive.
Jamuna Future Park: Only 5 minutes drive.
Jalshiri Abashon: 10 minutes drive from Shornali.
Purbachal New Town: 8 minutes drive.
Sheikh Hasina International Cricket Stadium (The Boat).
Bashundhara Residential Area.
Lake City Concord.
300ft Purbachal express way & 200 ft intersection road.
Explore Shornali
All Elements of Standard Living in One Place
All necessary institutions, commercial areas, public amenities etc. are available surrounding the Shornali Project. You can have an enjoyable lifestyle by purchasing a plot at Shornali Abashon. This is an outstanding project in prime location of Dhaka north city corp. for secure and standard living.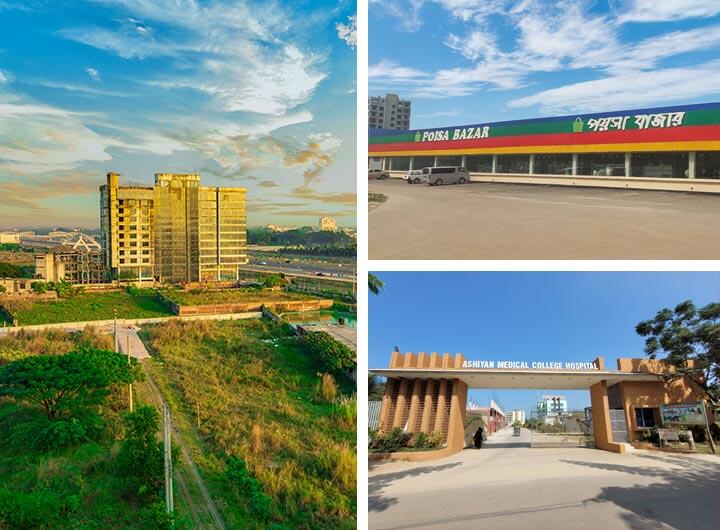 Sophisticated Township
Well reputed schools, colleges, & universities are available to ensure strategic academic growth around the shornali project. Also, there are local markets, super shops, brand shops, & malls to purchase things. Well-known healthcare services are available for better treatment too.
Grand Palace Convention Hall - Close Neighborhood
Hannans Park & Resort
Australian International School - 3 minutes drive
Navy Anchorage School & College - 5 minutes drive
Barura Bazar - 10 minutes drive
Buy Ready Plot
Standard Housing Near Baridhara and Gulshan Area
Sunvally Abashon is developed considering a sophisticated blend of residential and commercial space. This RAJUK certified project ensures sound design that affects comfy living aside from the crowd. Purchasable lands are available as per your choice at Sunvally Abashon.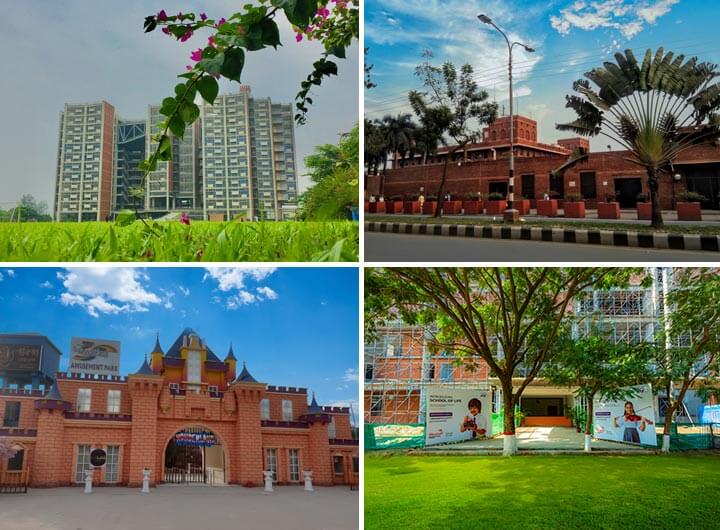 A Cozy Residential Area Inside Dhaka
Sunvalley Abashon is one of the biggest land projects in Bangladesh located in the heart of Dhaka. This land development project area is about 2700+ bighas and it is closely connected with exclusive zones of Badda, Gulshan, Banani, Baridhara, Aftabnagar, and Bashundhara residential area. Many leading companies/organizations purchased land from Sunvalley Abashon for their next business center. The neighborhood of this area are:
United International University: Just 2 minutes drive.
US Embassy: Only 7 minutes drive.
100 Feet Madani Avenue.
Wonderland Amusement Park: 2 minutes walk
Glenrich International School
Nutmeg Sports Complex
Explore Sunvalley
A Prime Township Hotspot
Swadesh Properties is not an imaginary land development company. We regularly hand over plots to our respected customers. We gained our customer's trust through the wonderful combination of words and deeds. Some special features of us -
Prime Location.
High Security Arrangement.
High Return on Investment.
On-Time Handover.
Hassle-Free Registration.
Modern Urban Amenities.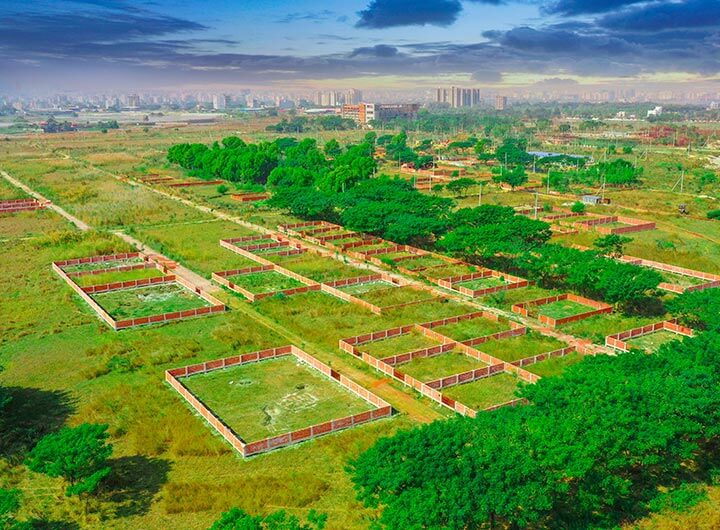 Appreciations by Our Customers
Serving our customers to ensure the best satisfaction is one of our key values. Please go through the reviews from our customers to know more.
More Reviews
It is among many residential real estate projects around 300-feet Purbachal Highway. It has a nice location, but yet to be developed. Therefore, we still need to see how it grows... Read More What Muhammad Mahfuzur Rahman Says
Muhammad Mahfuzur Rahman

One of the renowned Land Developer in Dhaka. They have two housing projects. Shornally and Sunvally. Hopefully both housing will be live shortly.... Read More What Rejaur RAHMAN Says
Rejaur RAHMAN

Shornali Abashon is a large gated residential area developed by Swadesh Properties Ltd. The area hasn't been developed yet properly. Most lands are vacant. A very few buildings have been constructed... Read More What Tawfiq Suhas Says
Tawfiq Suhas

Sun valley Baridhara Abashan is a future planed residential area, situated in madani Avenue, natunbazar, near United International University (UIU). This residential area is under construction... Read More What Ahmed Mitu Says
Ahmed Mitu

Our Valuable Clients