Playground Land for Sale in Dhaka, Bangladesh
Swadesh Properties Limited is a RAJUK-approved, leading land developer company in Dhaka, Bangladesh offering tailored solutions for playgrounds through our extensive range of land and plots for sale. If you seek the perfect space to create a recreational heaven in the heart of Dhaka city look no further than us.
Embrace the opportunity to design and develop an enchanting play space with all modern amenities that resonate with the dynamic spirit of the city. Call us now at 022-22-261620 or contact us today for personalized assistance and to secure your dream playground land.
Ideal Playground Land/Plots for Sale in Dhaka
Our curated selection of playground land plots in Dhaka offers you the canvas to craft a vibrant recreational destination. Laying the foundation for a society where these spaces are intrinsic to growth and well-being. You can design expansive play areas, incorporate sports facilities & create a welcoming environment for families & communities to gather and thrive.
Playground Land for Sale Near Purbachal & Gulshan
Explore the ideal canvas for your recreational aspirations through our exceptional array of playground land options. Presenting two exclusive projects: Shornali Abashon, near the flourishing expanse of Purbachal, and Sunvalley Abashon, ideally situated near the vibrant heart of Gulshan.
Features & Amenities of Our Land
At the intersection of imagination and reality, our land's features and amenities transform your vision into an engaging and vibrant reality.
Here are some key features and amenities:
Prime Locations
Spacious Plots
Rightly Planned
Recreational Infrastructure
Scenic Landscaping
High Return on Investment
Residential & Commercial Approach
Varied Property Types
Green Adventure
Sustainable Development
Commitment to Excellence
Why Choose Swadesh Properties Limited?
By choosing Swadesh Properties Limited, you may embark on a journey where values are respected, and your objectives are prioritized.
19+ Years of Experience
RAJUK approved plan
Proven Excellence
Prime Locations
Impressive return on investment
Sustainability Champions
Customer-Centric Approach
Collaborative Ventures
Nearby Key Locations
Swadesh Properties Limited's projects are strategically positioned in close proximity to various essential and popular locations in Dhaka, ensuring convenience and accessibility for residents and investors.
Some of the nearby key locations include:
Wonderland Amusement Park
Sheikh Hasina International Cricket Stadium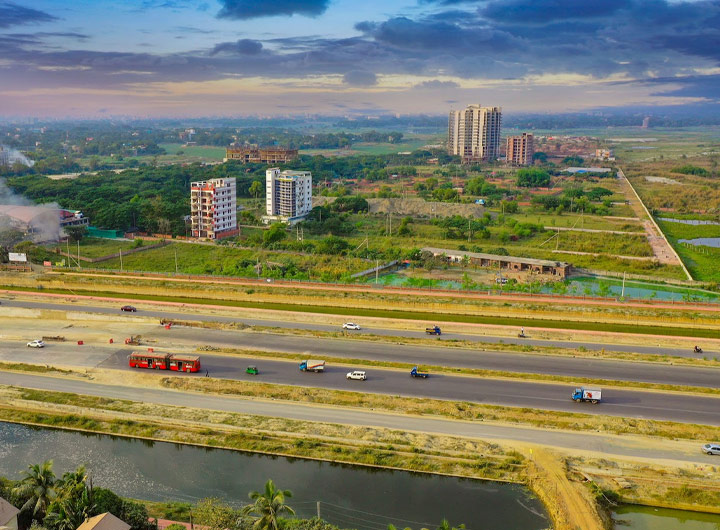 Invest in Playground Land
Act swiftly to secure your piece of playground paradise. Use the chance to plan, build, and cultivate leisure joy. Your playground land awaits – Call us now at 022-22-261620 or contact us today to reserve your spot today and embark on a journey of imagination and joy.
Frequently Asked Questions Regarding Playground Land
Why should I invest in playground land in Dhaka?
Investing in playground land in Dhaka offers a unique opportunity to contribute to community development while potentially generating returns on your investment. As urban areas expand, the demand for recreational spaces increases, making playground land a valuable asset.
Can I customize the playground on the land I purchase?
Yes, we allow customization of playgrounds to align with your vision. However, it's crucial to ensure that your plans comply with local regulations and safety standards.
What are the benefits of owning playground land in Dhaka?
Owning playground land in Dhaka brings several benefits. It enhances the quality of life in the surrounding area, contributes to the well-being of residents, and creates a positive impact on property values. Moreover, playgrounds can become focal points for social interaction and community building.
Can I visit the location and inspect the playground land before purchasing?
Certainly, we encourage site visits to ensure you are comfortable with the chosen land. Our team will make the necessary arrangements for your visit.
What factors should I consider when buying playground land in Dhaka?
Key factors to consider include location, size, zoning regulations, accessibility, proximity to amenities, budget, potential for development, and the demographic needs of the community.
Appreciations by Our Customers
Serving our customers to ensure the best satisfaction is one of our key values. Please go through the reviews from our customers to know more.
More Reviews
It is among many residential real estate projects around 300-feet Purbachal Highway. It has a nice location, but yet to be developed. Therefore, we still need to see how it grows... Read More What Muhammad Mahfuzur Rahman Says
Muhammad Mahfuzur Rahman

One of the renowned Land Developer in Dhaka. They have two housing projects. Shornally and Sunvally. Hopefully both housing will be live shortly.... Read More What Rejaur RAHMAN Says
Rejaur RAHMAN

Shornali Abashon is a large gated residential area developed by Swadesh Properties Ltd. The area hasn't been developed yet properly. Most lands are vacant. A very few buildings have been constructed... Read More What Tawfiq Suhas Says
Tawfiq Suhas

Sun valley Baridhara Abashan is a future planed residential area, situated in madani Avenue, natunbazar, near United International University (UIU). This residential area is under construction... Read More What Ahmed Mitu Says
Ahmed Mitu

Our Valuable Corporate Clients